Tag Archive for 'tick tick'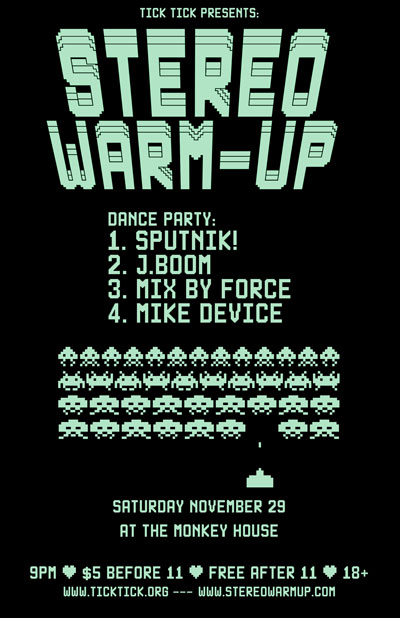 It's that time of the month again… And it's our 1-year anniversary at the Monkey! This time areound features awesome 80′s cover band Sputnik! from Montpelier, as well as returning favorites Mix By Force and J.Boom.
Tick Tick's monthly dance party expands to Club Metronome!  The first Friday of every month, come downtown and upstairs to dance the night away to the bangers, disco, and inevitable heartthrobz of DJ Mike DeVice, and guest DJs every month.  Come and dance for free in a happy atmosphere!!!
This month, featuring Drew Stock!!!  And a little bit of Dale, if we're lucky!
FREE for the 21+ people, if you are 18+ it's $5 and you have to be there by 11pm.  Sorry, it's the club's rules not mine.
DOUBLE PLUS PLUS:
I'll have a limited number of FREE Everyone Records compilations featuring songs and remixes by Dick Heaven, Ryan Power, Crinkles, and more! Of course yours truly has a track on there as well.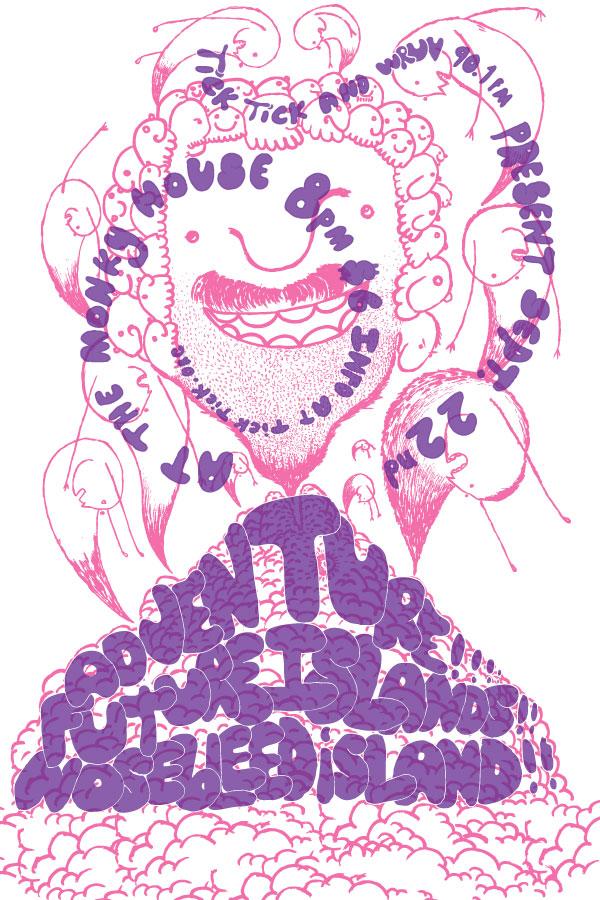 TONIGHT: Adventure, Future Islands, and Nosebleed Island @ the Monkey.  Of course yours truly as well.  See you there!
It's finally here! Check the trackisting below and the dope cover art by Noah Hoose above. 128 bitrate mp3 is a free download here, or you can buy one with a screen-printed cover, separated tracks, and full-quality sound for 5 bucks. Enjoy!
STEREO WARMUP VOLUME TWO:
01 – Treasure Fingers – Cross The Dancefloor
02 – Adam Tensta – My Cool (UMYO RMX)
03 – Neighborhood – Marvelous
04 – Villains – Rock It
05 – Cut Copy – Hearts On Fire (Calvin Harris RMX)
06 – Claude Vonstroke vs. Too $hort – Blow The Whistler (Hookerz & Blow RMX)
07 – Kid Sister – Pro Nails (Gant-Man's Jackin' RMX)
08 – Jokers Of The Scene – Y'all Know The Name (Flosstradamus RMX)
09 – Busta Rhymes – Don't Touch Me (Bird Peterson RMX)
10 – Dave Nada – Kick Out The Jams
11 – Tittsworth ft. Kid Sister & Pase Rock – WTF
12 – The Count & Sinden ft. Rye Rye – Hardcore Girls
13 – Hervé and A-Trak ft. Cadence Weapon – Roll With The Winners
14 – Dead Prez – Hip Hop (Mike Device RMX)
15 – Young MC – Bust A Move (Don Rimini Ravekid Extended RMX)
16 – Kid Cudi – Day'n'Nite (Crookers RMX)
17 – Dizzee Rascal – Flex (Dave Spoon RMX)
18 – The Count of Monte Cristal – Dibby DJ
19 – Smalltown DJ's – Party Like A Punk
20 – Kazey & Bulldog – Sweet Harmony
21 – Bird Peterson – The Jump Off
22 – Hercules and Love Affair – You Belong (Riton RMX)
23 – Mike Device – Bombs Over Casbah
24 – B.O.B. – Ur Love
25 – Mike Device – Beat Him Up
26 – DJ Class ft. Pase Rock – Roll It (Fully Fitted Mix)
27 – Muscles – Ice Cream

stereo-warmup-2.mp3 (right click to save)